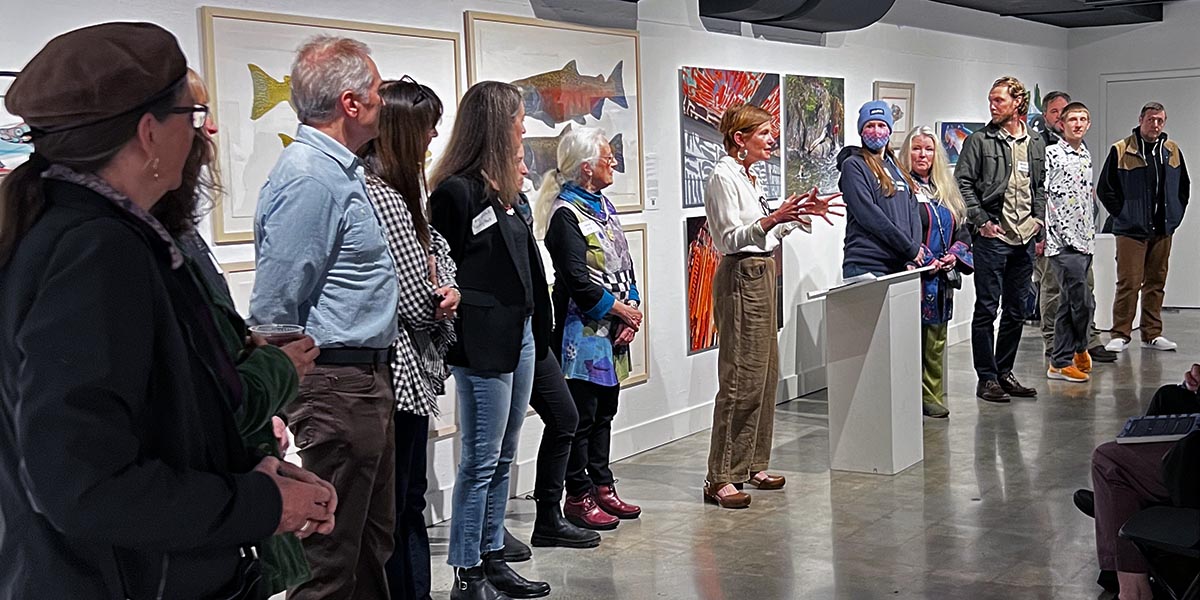 Artist Quotes
"Happiness is a room full of people celebrating salmon through visual art, poetry, and activism. Big thanks to…Save Our Wild Salmon's Northwest Artists Against Extinction, and to Holly J. Hughes of Empty Bowl Press, Washington State Poet Laureate Rena Priest, and the Kittredge Gallery, University of Puget Sound. [At the closing] reception for Honor: People and Salmon proves once again that salmon bring people together. It's The Salmon Way." --Amy Gulick, photographer, author, poet
"The exhibit featured so many talented and amazing artists, scientists, writers, and poets, all who shared a similar drive and passion in using their artwork and writing to raise awareness on the beauty and life of salmon. So very happy and grateful to have made it to the event, and see new and old faces." --Rosemary Connelli, artist

Closing Ceremony
The Honor: People and Salmon exhibit closed on Saturday, April 15th, evening after a celebratory, creative coming together of visual artists and poets.
The gallery was at full capacity, standing room only, for the closing reception and poetry reading from the recently published anthology, I Sing the Salmon Home–edited by outgoing Washington State Poet Laureate, Rena Priest, and published by Empty Bowl Press.
While the room was abundant with artists of many genres, unfortunately, Rena Priest was not able to attend. Holly Hughes of Empty Bowl Press ended the telling of that sentence, and began the next by revealing that Washington's incoming Poet Laureate, announced three days before, was in attendance and Arianne True would be reading her poem about returning home. Arianne was joined by Kathryn True, Ann Spiers, Amy Gulick and Sasha LaPointe who left many in the crowd in tears, while Linera Lucas served-up salivation, salvation and laughter.
Holly Hughes recited additional poetry from the collection that instilled the audience with hope and optimism. Emotions were brought to light by the poetry and elevated by the artwork throughout the gallery space. The wide array of mediums, colors, and approaches illustrated the diverse ways in which we interact with and interpret our relationships with salmon. The combination of spoken word and vibrant colors encapsulating honoring salmon made for a powerful evening.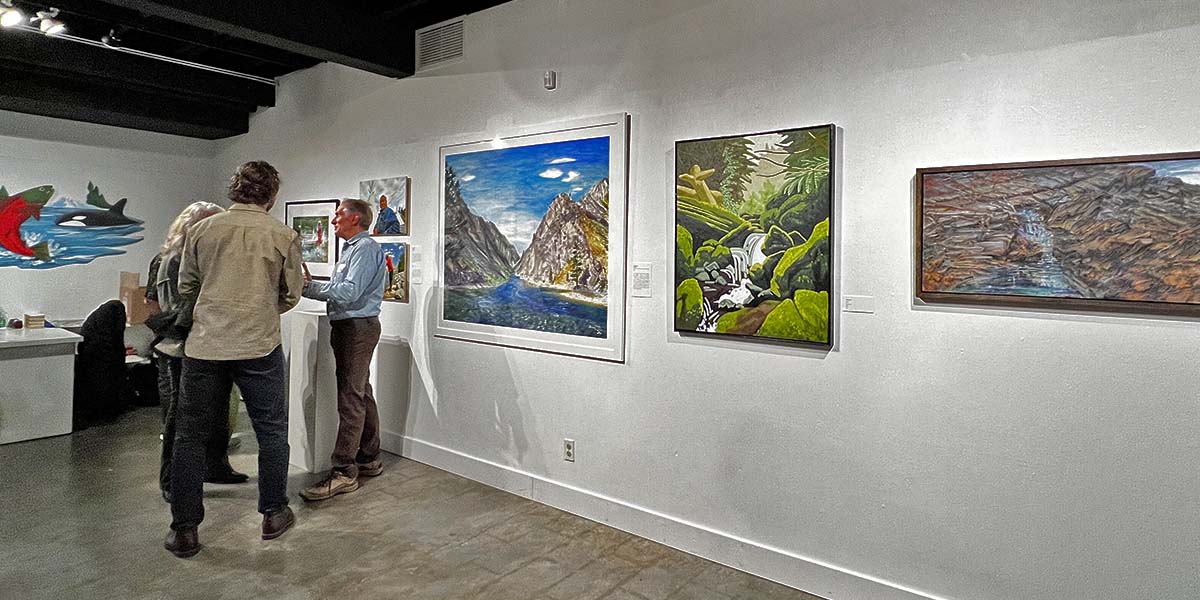 We acknowledge that it is with the dedication and passion of the artists involved (follow this link to see a slideshow of artists' artwork and see a complete list of exhibiting artists below) that creativity can become a convener for hope, action and change.
The sculptures, paintings, prints and photographs may have come off of the walls and the books of poetry have been boxed up for the next gathering, but the act of honoring people and salmon lives on through each of you who attended the exhibit and who are reading this article.
It lives on through you who have written to your representatives or donated to support environmental education, and those who continue to invest in the act of learning and listening. It lives on in those who are supporting Indigenous people in uplifting and upholding Tribal sovereignty and self-determination. It lives on in those who show-up to be a part of the contemporary conversation, carrying forward the words of Billy Frank Jr. – "those who learn to listen to the world that sustains them can hear the message brought forth by salmon." A healthy future for salmon is a healthy future for people.
Exhibiting artists
Taelyn Baiza, Lisa Allison Blohm, Kristian Brevik, Sue Coccia, Melissa Cole, Rosemary Connelli, Sarah Crumb, Kate Crump, Alyssa Eckert, Tom Gross, Amy Gulick, Karen Hackenberg, Linda Hanlon, Wade Huntsman, Eileen Klatt, Sarah Koten, Mary Jo Mann, Peter Marbach, Jen McLuen, Deborah Milton, Christian Murillo, Roxann Murray, Lee Musgrave, Steve Nagode, Austin Picinich, Pinebones, Elise Richman, Paige Roper, Harro Scharbau and Tim Keyzers, Israel Shotridge, Rachel Teannalach, Josh Udesen, Elisabeth Winnen
Thanks to our Panel participants for their invaluable contribution in continuing the conversations around how to honor people and salmon: Paige Pettibon, Archie Cantrell, Peter Wimberger, Joseph Bogaard, Britt Freda and a special thanks to Elise Richman for moderating. Read more about the Panel Discussion to Honor: People and Salmon by Britt Freda, NWAAE Creative Director and Curator, here.
Recent media on Honor: People and Salmon exhibit
"Those who learn to listen to the world that sustains them can hear the message brought forth by salmon."
--Billy Frank Jr.