by Britt Freda, NWAAE Creative Director and Curator
When I started writing this post, I put on my journalist hat. Thing is, it's not my hat. It doesn't fit me well. The color looks zippy and smart on my friend but out of place on me. Wearing it was giving me a headache, so I took a bath. In doing creative work, when I get stuck, I regularly employ the practice of doing something other than the task at hand to reveal the pieces I am not seeing. For me, walking to the ocean and back with my dog, or 30 minutes pulling weeds in my garden is the shortest way to finding creative answers. In my mind, they are all creative answers. I've been told the journalism hat is to be worn on the head. Makes sense. Except that when I do what I do well, the work comes from the heart.
I'll be honest, there are days the soft skill reference to heart-work vs. a story about lauding hard skill, intellectual, head-work makes me want to clench my fists, flex my biceps and pose as the strong keeper of the facts and answers, rather than the explorer of uncertainty in the imagination. In search of my compass, I found Einstein's quote: "Imagination is more important than knowledge. Knowledge is limited. Imagination encircles the world." I wonder if Einstein would think this true in our current stage of climate crisis? Right now, both are essential.
Northwest Artists Against Extinction, began from the imaginings of Joseph Bogaard, Executive Director of Save Our wild Salmon Coalition. As creative problems are often solved, he and I met a few times to walk through a forest at the center of an island and talk about art. I understood there was a call for more heART in a dialogue that was dominated by science and policy, politics and data. Einstein also said, "The greatest scientists are artists as well." Joseph and I wondered, what was possible if we added artists and art to this advocacy equation?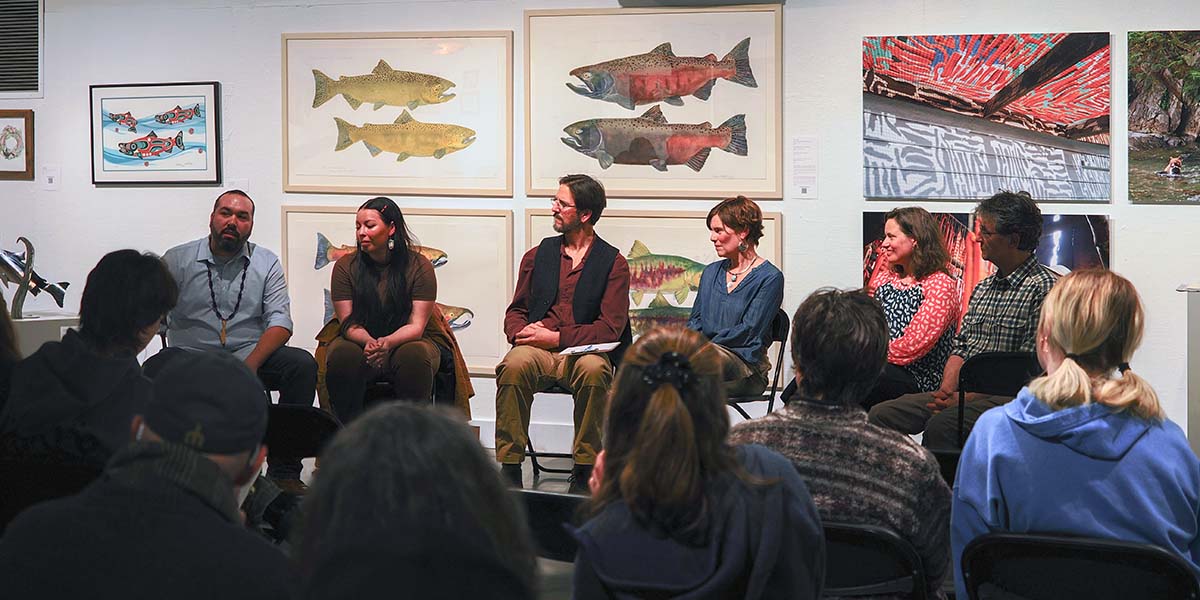 A little over a year later, March 23, 2023, I found myself sitting to the left of Joseph on a panel in the Kittredge Gallery at the University of Puget Sound. We, and approximately 60 students, supporters, professors, artists and gallery goers, were surrounded by stunning, vibrant works of art exhibited as a call for Honor: of People and Salmon–and the interdependent ecosystems that rely on them. With us was Art Professor, exhibiting NWAAE artist, and the moderator for the evening's panel discussion, Elise Richman. Biology Professor and Director of the Slater Natural History Museum at UPS, Peter Wimburger was there, deep in salmon science. And to our great delight, due to a stroke of luck and generous openness, Tacoma based artist Paige Pettibon who is a Black, White and Salish (from the Confederated Salish and Kootenai Tribes) joined NWAAE and our panel. Paige graciously connected us with Native American Education Liaison for the Puyallup School District and a culture keeper for the Puyallup Tribe, Archie Cantrell.
Archie opened the evening with a land acknowledgement in Lushootseed. Both Paige and Archie introduced themselves in the language of the Indigenous People who have lived on, and steward, the land on which we stand since time immemorial. Paige reminded us of the sounds in the Lushootseed language that echo the sound of waves lapping the shore. In listening, we re-member we are connected: people, land, water, animals, fish–all living, interdependent beings.
Stories were paired with the science of sustainability and climate crises, combined with politics and economics. Also present in the panel discussion were personal stories of Indigenous peoples who have continuously stewarded salmon in ways that honor their reciprocal relationship and who regard orcas as family. Imagine, dear reader, if that Indigenous ethos and a consideration for the next seven generations guided our decisions and our policies, how different our world would look.
On the walls of the gallery were 4 of the 61 life-size watercolors of salmon by Eileen Klatt from rivers in the Columbia-Snake River Basin that are no longer with us. These vivid, large salmon pairs hang juxtaposed bold, beautiful painted surfaces of disturbing dams by Rachel Teannalach. Rosemary Connelli's woodblock print illustrates the similarity of salmon scales to finger prints visually connecting fish to humans in, Within You. Eyes in eggs gaze back full of potential in Tlingit master artist and carver, Israel Shotridge's print, Salmon Migration. Perched on pedestals, just off the press, were a few copies of an anthology of poems, edited by Washington State Poet Laureate and member of the Lhaq'temish (Lummi) Nation, Rena Priest, titled I Sing The Salmon Home. The evocative, creative works of over 30 visual artists and more than 150 poets filled the room.
These poems, paintings, photographs, prints and sculptures connect us: people to people, people to salmon, salmon to streams and forests and salt water and orcas. Also, people to dams, dams to salmon, depleting numbers of salmon to starving orcas, people to the remembrance of a grieving orca mother. These are the stories in the room. In the preface of I Sing the Salmon Home, Rena Priest describes salmon, a keystone species, as "...everything relies on them, and if we want to be okay, the salmon must thrive." There are hundreds of overlapping circles and cascading effects connected to the health of these emblematic fish.
The data is clear. The question is whether we the people will be moved enough, not to move mountains, but in this case, to move dams and to honor the salmon and people with whom they are connected. The question is whether we have enough cumulative imagination to envision a future rich in renewable energy, and to support sustainable stewardship of land and water and living beings. The question is whether our imaginings–of a world healthier than one we've experienced in our lifetime–will fuel the bravery it takes to make significant change.
Writer, documentary-film maker, feminist, civil rights activist, and educator Toni Cade Bambara wrote "The role of the artist is to make the revolution irresistible." The subject in the Kittredge Gallery at UPS is salmon. The reasons for the "revolution" or _evolution are evident, may the strength of story, poetry and art make it "irresistible."
Public Reception April 15th
There will be a reception, open to all, at the Kittredge Gallery, University of Puget Sound, on Saturday, April 15 from 5:00 - 7:00. Rena Priest will be reading from I Sing the Salmon Home, published by Empty Bowl Press. Many of the exhibiting artists will be in attendance. THIS WILL BE THE FINAL DAY OF THE EXHIBIT. Please join us to Honor: People and Salmon.