In honor of orca month and the complex ecosystems on which our resident orcas depend, Patagonia Seattle has partnered with Northwest Artists Against Extinction and Save Our wild Salmon Coalition to bring a limited number of artworks from the recent Honor People and Salmon exhibit at the Kittredge Gallery, University of Puget Sound to the walls of the Patagonia, Seattle, retail store.
"It is uncommon that works like these would be on display outside of a gallery or museum," said Britt Freda, creative director for Northwest Artists Against Extinction. "I love the democratization of art in unexpected public spaces, where unassuming people happen upon the work without having to decide whether they're compelled to spend the time to walk through a museum exhibit or to work out whether they feel comfortable perusing works in a stark gallery. At the Seattle Patagonia store you might look up from the soft, spring colors of water repellent, breathable layers and land your eyes on a thick school of artist Josh Udesen's spawning sockeyes."
Josh Udesen, Return, acrylic on birch panel, 30" x 60"
When you enter the store in May and June the glass doors at the entrance are flanked, on one side, by large-scale compositions of drying salmon by photographer and author Amy Gulick. On the other side you discover back-to-back, 4' x 4' works of Monument Dam by Rachel Teannalach. "The masterful and seductive quality of the painted surface of these two canvases juxtaposes the hard, man-made, intrusive lines of a dam called Monument!" Freda explains. "I love the alluring, nearly palpable, misty, tumbling, painted water and I am pained by the challenges of the large, taking-up-all-the-space subject of the dam. There's the obvious man vs. nature element to these works and Rachel successfully evokes a strong love hate emotion in them."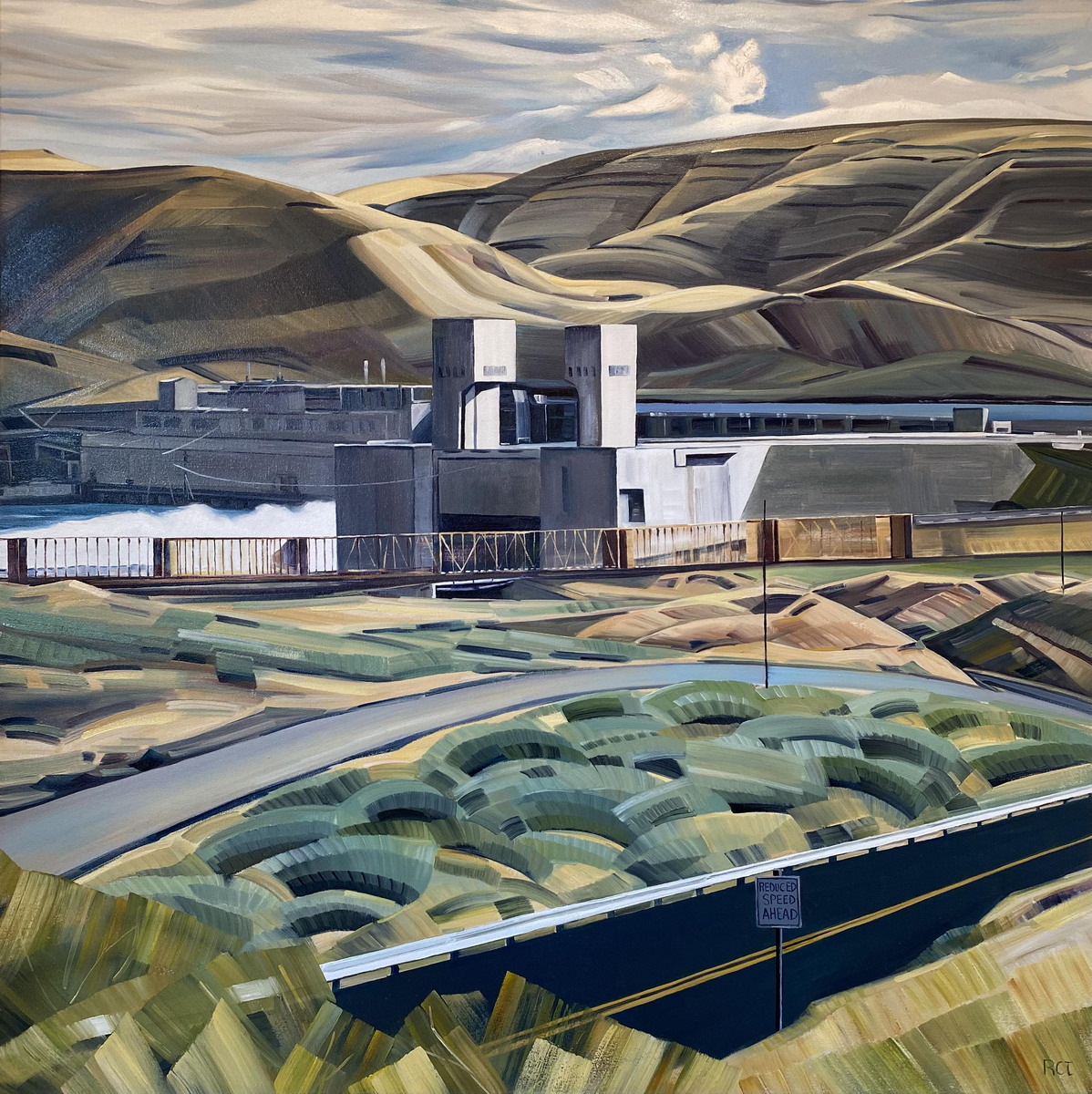 Rachel Teannalach, Monumental I, 2022, oil on canvas, 48" x 48"
Four pairs of extinct Columbia River Basin salmon from Eileen Klatt's ever powerful and beautifully wrenching Litany of Salmon series cover the largest wall in the store. "As Denis [Tuzinovic] (read his story of advocacy and his journey as a child refugee) and I installed the works, Patagonia staff members lingered as they digested my retelling of Eileen's story of becoming a "Salmon Pilgrim" in 1998–which was long before many of these young staffers were born," Freda exclaims. "Eileen reminds us, extinction is not something far off in our future. It is here. It is happening. It already happened."
Eileen Klatt spent over a decade on a painting pilgrimage to each of the sixty-one rivers in the Columbia River Basin where salmon are now extinct. She documented, traced outlines on rolls of freezer paper, and then she painted sixty-one male/female pairs of life-sized salmon. She dedicated her paintings to all the extinct salmon in the Columbia River Basin.
"Every time we have had the opportunity to show these 'Litany' paintings they stop people in their tracks." Freda explains. "It is such a moving story of one woman's creative vision, commitment, research and a soulful pilgrimage–which I am certain changed Eileen's life. But I am also fairly certain that Klatt's extinct salmon paintings continue to change the lives and perspectives of the people who are fortunate enough to experience these compelling art works in person and to learn of her story."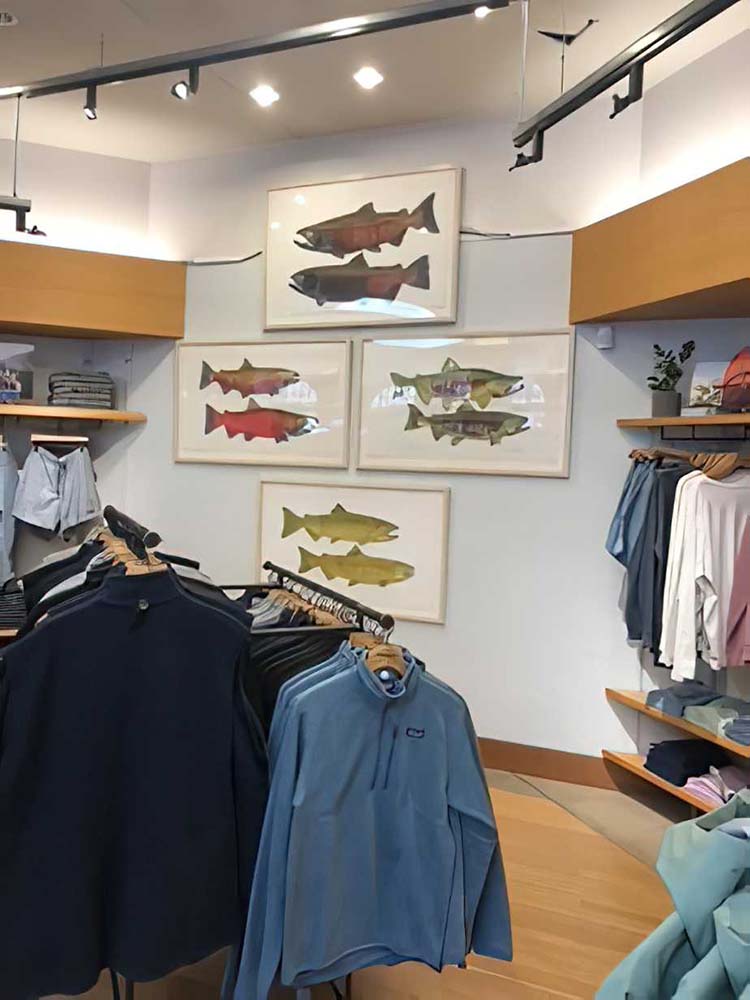 Eileen Klatt, Litany of Salmon…,
ca. 1998, watercolor on paper
June is Orca month. In our celebration of these emblematic yet endangered resident species we must also consider the challenges and the heartbreak. Whether in the oft memorialized stories of loss and hope within families of Southern Resident Orcas in Lisa Allison Blohm's painting New Life Brings Hope, or Rachel Teannalach's Monumental dams, or Eileen Klatts, Litany pilgrimage, these artists illuminate significant intersections wherein sorrow and grief fuel creativity and advocacy, where loss and fear are transformed into action and possibility.
Save Our wild Salmon Coalition, NWAAE and Empty Bowl Press will be hosting an evening of storytelling at Patagonia Seattle on June 22, 2023 from 7:00-9:00. Save the date and stay tuned for more info about the event.
We hope you'll swing by the Seattle Patagonia store in the months of May and June and discover these and other inspiring works by Northwest Artists Against Extinction.
Exhibiting Artists:
Please contact the artist directly for additional information about availability and pricing for their work. 100% of the proceeds go to the artists who create to inspire a healthier future for all.