by Britt Freda, NWAAE Creative Director
Surrounded by visual art by Northwest Artists Against Extinction and brightly-colored-Patagonia-gear, salmon advocates, artists, poets and storytellers filled the house at the Patagonia Seattle store. This celebration of salmon and orca, on the evening of June 22nd, was hosted by Patagonia Seattle, Save Our wild Salmon Coalition, Wandering AengusPress and Empty Bowl Press, publisher of the 2023 anthology I Sing The Salmon Home: Poems From Washington State.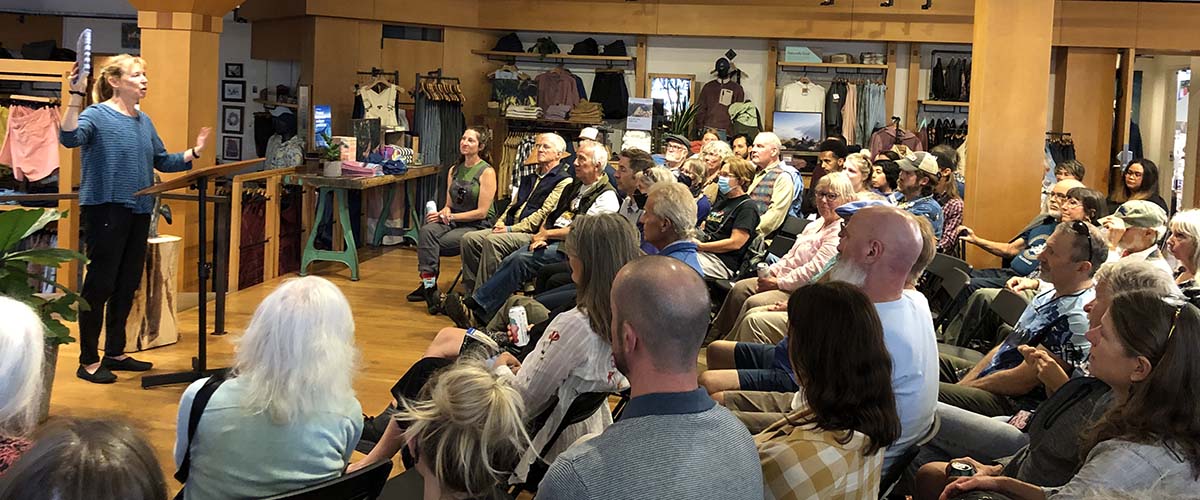 Holly Hughes, poet and publisher, Empty Bowl Press
Audrey Miller, Puyallup Tribe member and middle school student, opened the evening with her introduction in txʷəlšucid. She then proceeded with a chilling, chanted refrain "Hey, Hey you…" from her poem "Evolution from Salmon." With youth in her voice, Audrey's poem which is written from the perspective of the salmon, exudes palpable strength in questions and a culminating plea: "Just please don't take all the salmon, will you?"
Jill McCabe Johnson, co-editor of the featured poetry collection, For Love of Orcas, published by Wandering Aengus Press, unexpectedly filled the room with a chorus of voices from the entire audience in an emotionally-powerful, musical improvisation evocative of orca song. And then she read her poetry!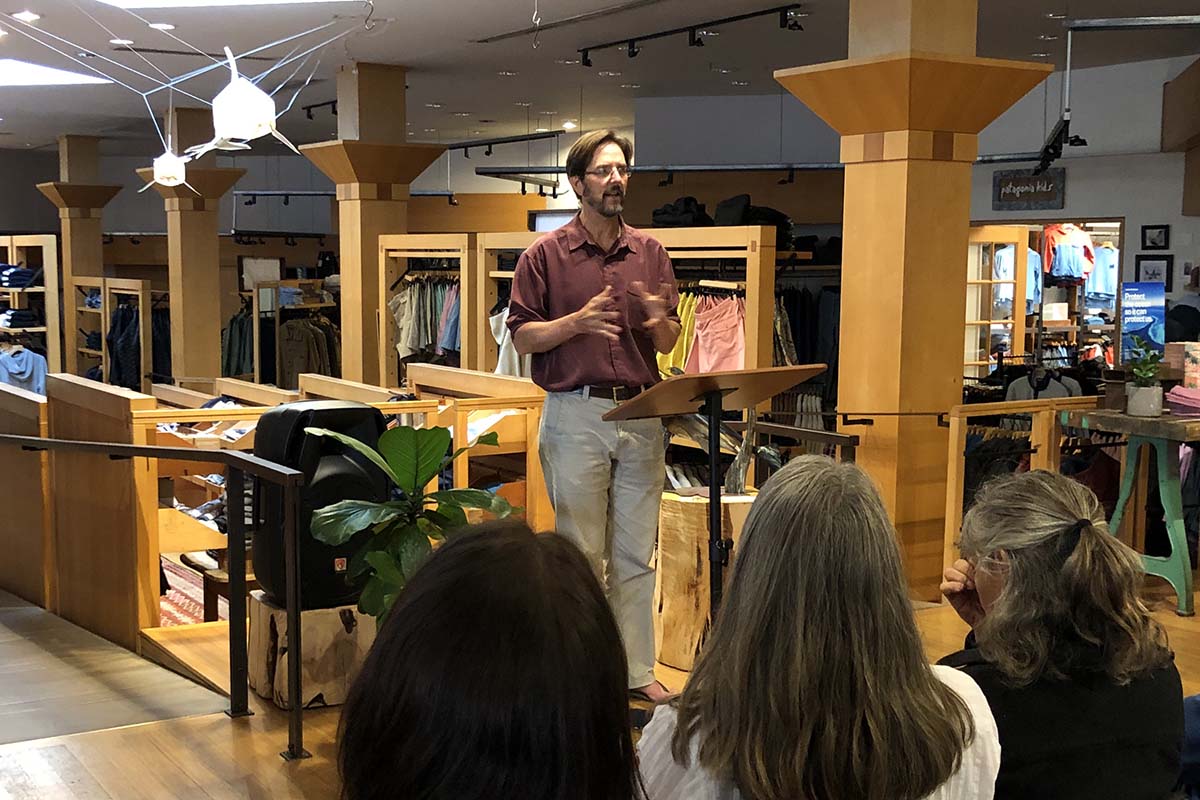 Joseph Bogaard, executive director, Save Our wild Salmon Coalition
Holly Hughes eloquently wove poets and poems, including her own, into the evening. Kathryn True shared numerous haikus. Andrew Shattuck McBride, co-editor of For Love of Ocas, read one of his poems. On display was a stunning black sculpture of a raven wrapped in salmon, on loan from Holly Hughes and John Pierce. Both the sculpture and an excerpt from "Salmon of the Heart," (read by Holly) were created by the late, iconic artist and writer Tom Jay. It was clear that his words, read with genuine reverence, awoke inspirational memories of many.
With her parrot and her husband, artist Eileen Klatt drove from Hope, Idaho to tell her decades-old story of pilgrimage and passion that led to the creation of A Litany of Salmon–Eileen's collection of 61 life-sized watercolors of extinct salmon of the Columbia River watershed. In a rare showing, Eileen shared the sketchbooks, notes and drawings from that pilgrimage. To boot, she wore the vest and the field bag that accompanied her and those precious notebooks through a, nearly, 15-year-long journey of research and painting.
The evening wrapped with a story written by Carl Safina, in Beyond Words, about legendary orca researcher Ken Balcomb. It was read by Joseph Bogaard and there was nary a dry eye in the audience, including those of the reader.
After the event, on the drive to the Vashon ferry, Joseph and I had a chance to talk about the connective potential of art–visual art, the art of poetry and the art of storytelling. We pondered the ancient, artistic practices of beauty and bond that exist in the sharing of knowledge, wisdom and ancestry. The arts can be unifying beyond culture, language and sometimes beyond species.
We'll never truly know how many people who attended the evening will tell friends and family about the stories and poems they heard. We won't know how many people were inspired to buy a book of poetry or two and spend a week, a month, or a lifetime contemplating salmon and orca differently, more intimately. We won't be able to track the number of people who were inspired to become greater change makers–from voting, to letter writing, to take-to-the-water-and-streets-advocacy. But at the core of our beings we DO know that art and story matters to our humanity and to the future we build.
*Note: this blog was originally posted stating that Audrey Miller was in high school. Audrey Miller was finishing her 7th grade year of middle school when she read her poem!