Artist: Carrie Ziegler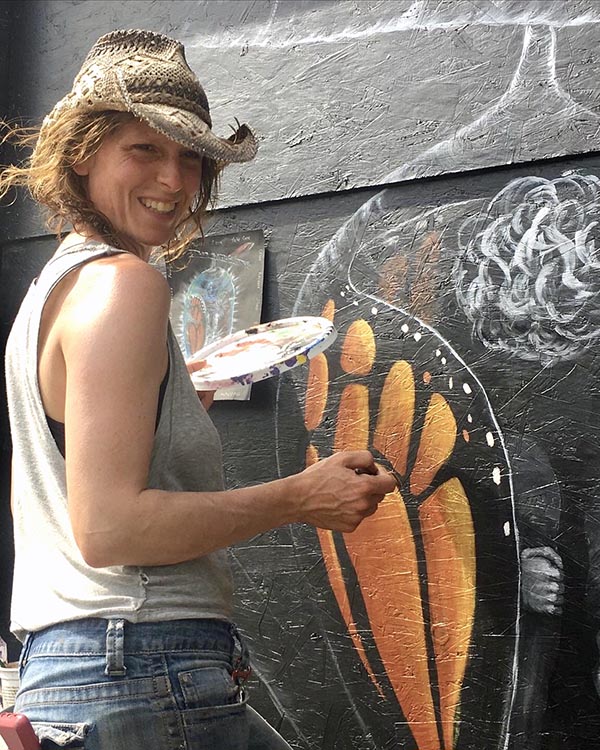 Recently, one of my collaborative art in action projects contributed to the passing of a climate mitigation plan in my county AND a resolution stating we are in a Climate Emergency. I have worked with so many organizations and people who are struggling with apathy and lack of hope in light of all of the environmental injustices in the world. When they create art around these issues, collaboratively with other people, they are rocketed out of apathy and into action.
This led me to truly understand the transformative power of art, and the power of creating something together that is much bigger than any one of us can do on our own. I am excited to help YOU create the change you envision in this world.
When we use art to engage with people, we lift them up, open their eyes and hearts to new possibilities. If we are to create a world where we not only survive, but thrive, we need new narratives, new ideas, new hopes and dreams. Art can help us to envision this world. I lead multi-faceted art in action projects involving thousands of people in their creation. By participating, people get to experience being part of creating something that is larger than any one of us can do on our own. That kind of lived experience is essential to overcoming the immense problems we face as a society. If we believe in our own power, and our communal power, we can create the kind of world we really want to live in.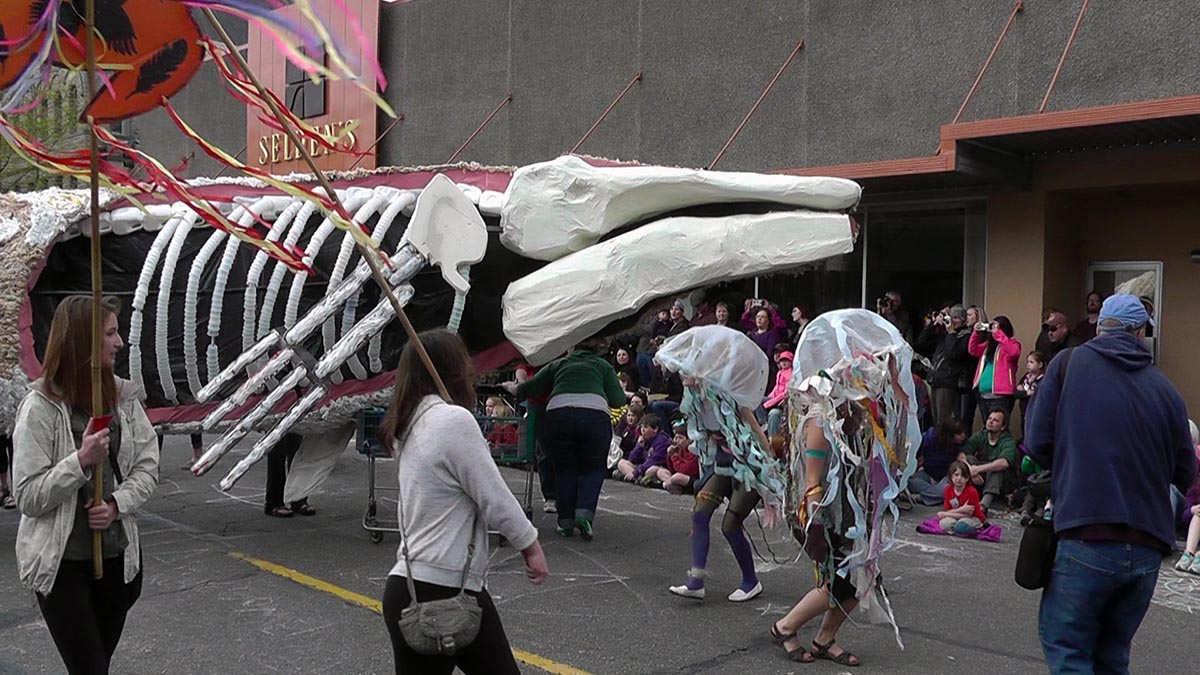 Carrie Ziegler: Whale Skeleton
2013 - 10,000 upcycled plastic bags, cups, forks, and bottles from school cafeterias, upcycled poly-pipe, bamboo.
- 10'x32'x8'

This life-sized gray whale was created by over 900 people from elementary age to seniors and won the Societal Impact Award from the WA State Recycling Association. It was featured on a television program viewed by 1.5 million people and regaled as a highlight during the Capital's beloved Procession of the Species Parade.
This project combined sculpture, performance, marine biology, and social action to inspire us to make positive choices around plastics. The map on the side of the whale shows how trash becomes part of the Pacific gyre, now known as the Great Pacific Garbage Patch. The other side shows the skeleton of the whale, designed and made by high school students with trash from their cafeteria.
The piece debuted during the period when the Thurston County plastic bag ban was up for consideration and played a significant role in a positive change in policy through community awareness.
Participants said they felt personally responsible for the ban on bags. When I heard students feel that they had the power to create a change in our government, I knew the project had an impact that went much deeper than any that can be seen on the surface.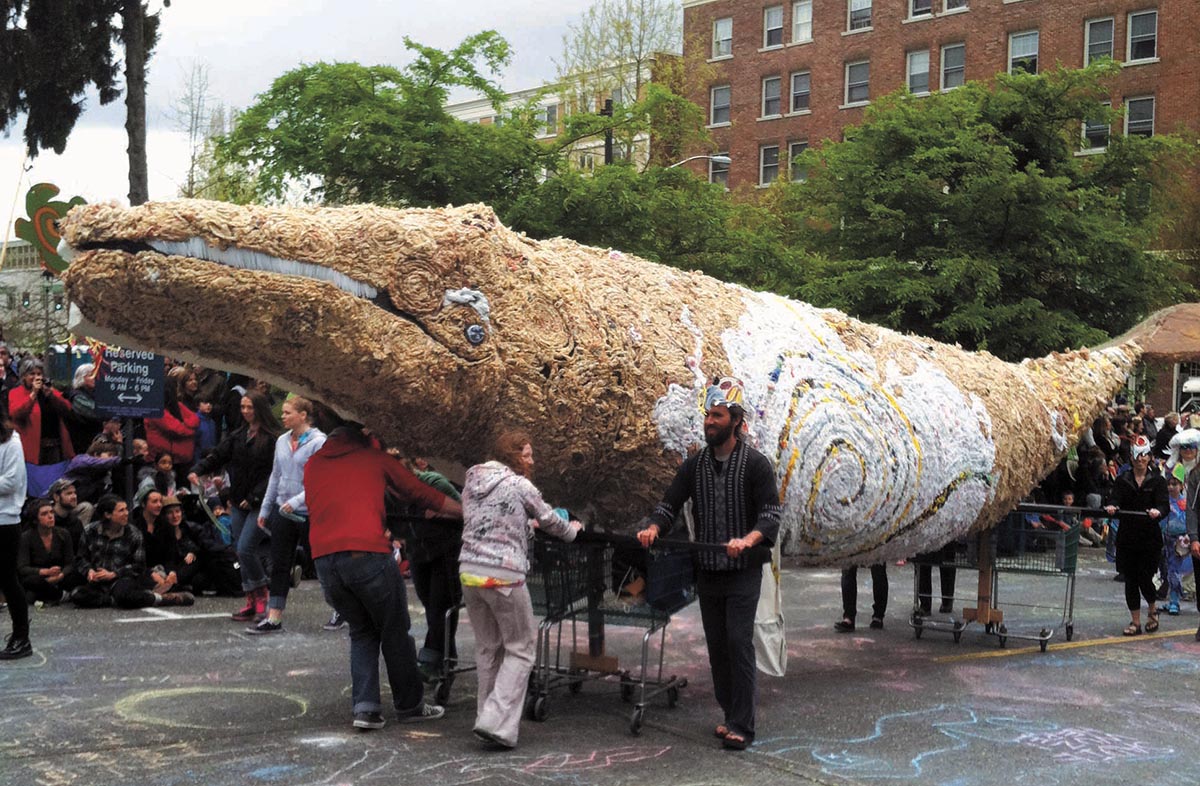 Carrie Ziegler: Whale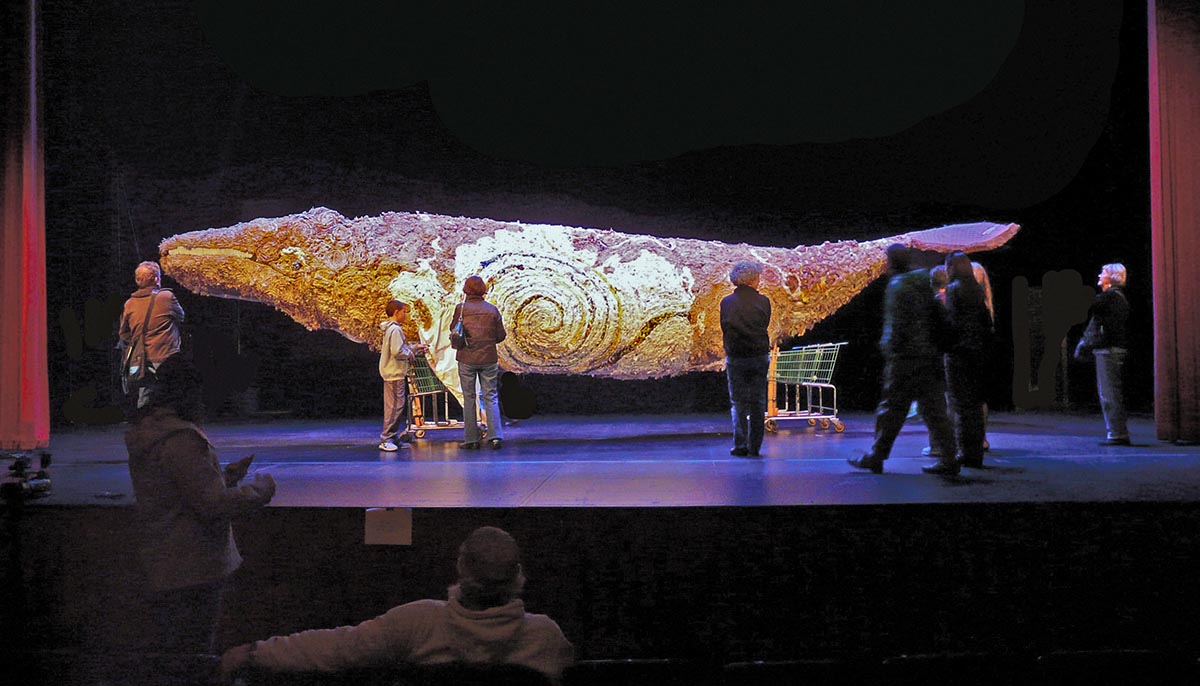 Carrie Ziegler: Whale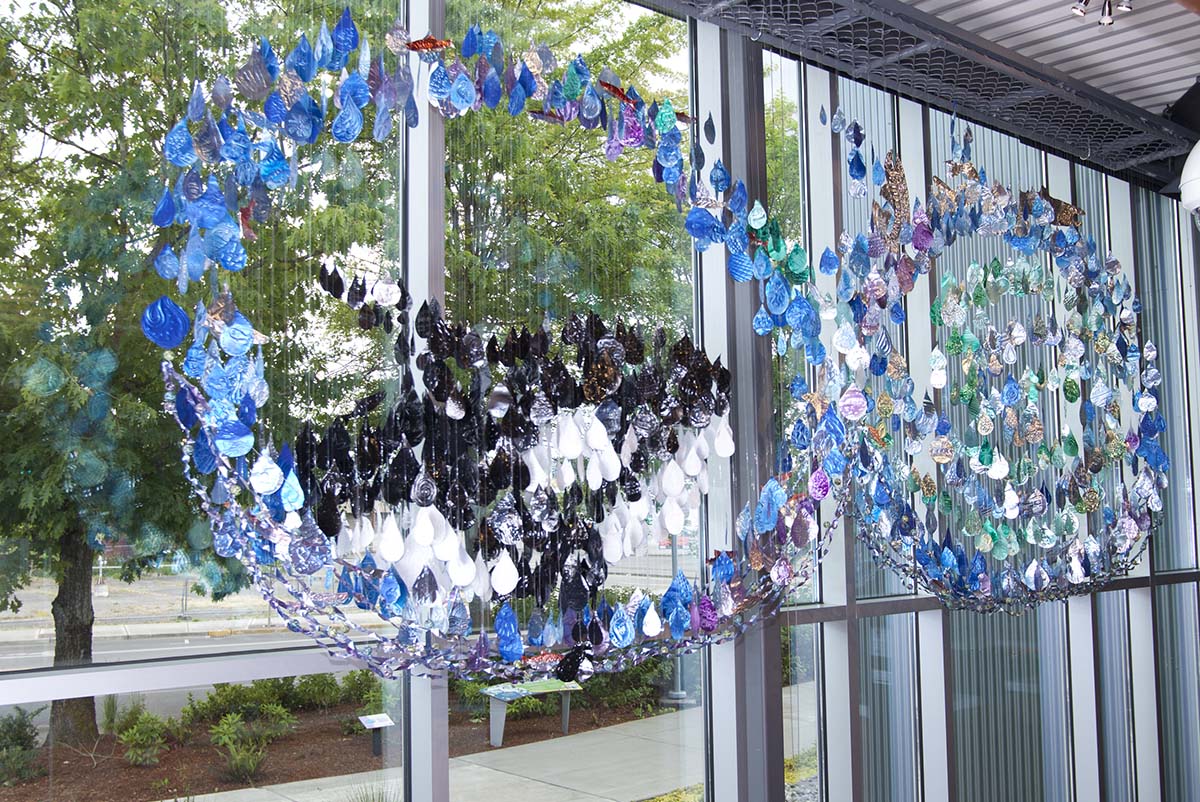 Carrie Ziegler: Onewater
2016 - Aluminum, monofilament, steel, paint, glass beads, glue. - 14 ft x 8 ft x 1ft
Courtesy of:: The Wet Science Center at LOTT Cleanwater Alliance

Suspended aluminum water drops and salmon form a 3-dimensional, pointillism mosaic of intersecting light and motion, telling a story of water, both how it is constantly recycled and infinitely precious.
In 2016, I worked with Thurston County 6th-12th grade students and adults to focus on water conservation and appreciation for clean water. I hosted over 45 workshops with students and community members discussing water's cycle through our communities and the environment and the importance of protecting and conserving water. Participants created embossed aluminum water drops and salmon in response to the presentations and reflecting on what they learned. I incorporated these individual pieces into a suspended art installation that hangs in the front windows of the WET Science Center.
The full piece depicts an infinity symbol, showing the continuous cycle of water from our urban environment to Puget Sound. This piece is now being used daily as part of the education and outreach that LOTT does about the importance of water. The story of it's creation, combined with the beauty that is each individual piece and the collaborative piece as a whole, is inspiring water conservation to all who visit the Center.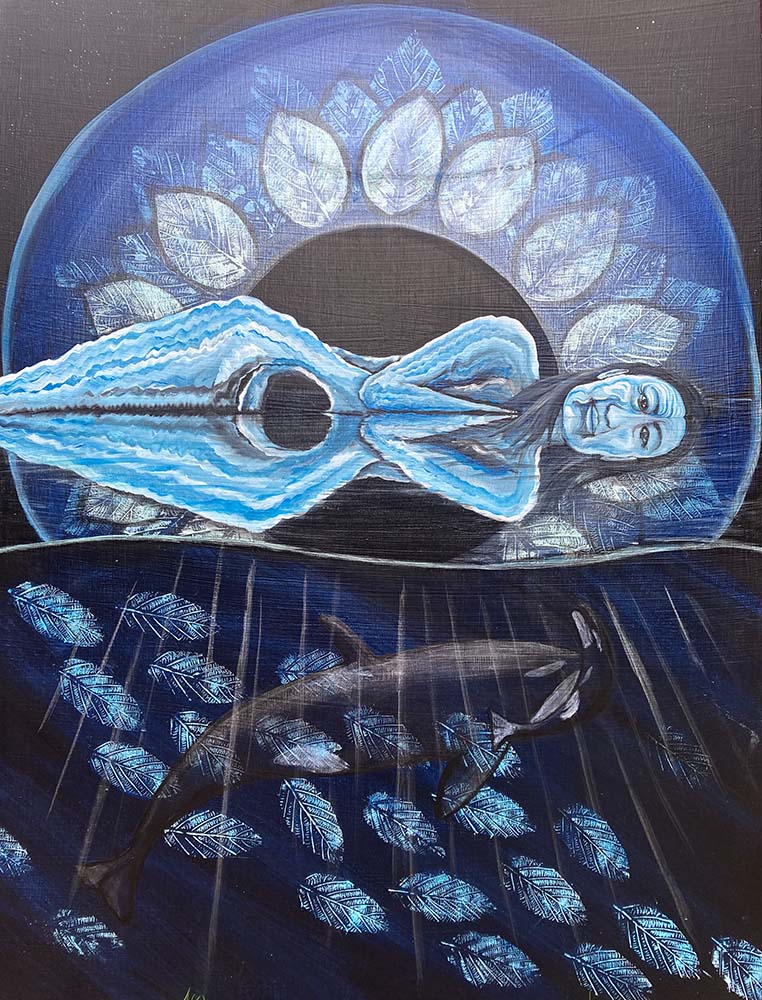 Carrie Ziegler: For Talequah
2022 - Acrylic on wood - 24x32"
This painting is parting of a studio painting series called Sea Level Rise/The Mother's Tears. The series explores climate personal grief. This painting is a response to a poem written by collaborator and poet Kathleen Byrd called This is a Love Poem for Talequah or J35.