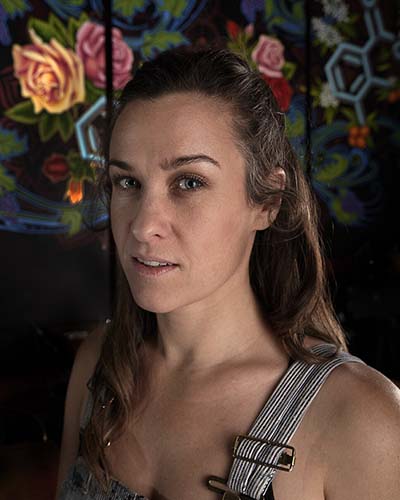 In honor of Orca Month, June 2022, Northwest Artists Against Extinction is spotlighting the launch of a multi-city salmon conservation mural project by artist Gabrielle Abbott.
The first mural in the series will be created on Thursday, June 2nd in Westlake Park, downtown Seattle. Gabrielle's murals are beautiful, temporary chalk illustrations, drawn to engage observers in dialogue and ignite interest in taking action for salmon recovery. To learn more about her process, check out this interview with Gabrielle by Jeanne Dodds with Save Our Wild Salmon.
Jeanne Dodds: How did you begin creating public artworks in the form of temporary murals?
Gabrielle Abbott: When I was 20 years old, I moved to Florence Italy to study portrait painting. While living there, I discovered many artists creating sidewalk chalk murals on the city streets. In Italy, this is a historic artform that dates back to the renaissance, and they call it "Madonnaro Art." I started drawing on the streets there to earn money while I was studying, and quickly took to it. Before long I was a member of the Florentine Madonnara guild and was regularly traveling around Europe creating drawings for tips. I initially planned to stay in Italy for 6 months, but after discovering this lifestyle, ended up staying three years, working as a Madonnaro artist the whole time.
JD: This particular project is about salmon conservation and recovery of a thriving salmon population in the Pacific Northwest. What drives you to create work on this topic?
GA: One of the core values of my creative practice is "service." This means, I see my art as a way that I can serve the world and make positive change. Salmon conservation is one of the most important issues in our local ecosystem so I was interested in offering my art to their cause. Also, I was born and raised in Seattle and have always had a close connection to the local ecosystem. In particular, I feel a spiritual connection to our Southern Resident Orca whales, and am devastated by the thought of their extinction. Salmon conservation is directly linked to Orca conservation.
JD: How did you become interested in salmon, as a species, and issues surrounding their survival?
GA: I learned about the issues surrounding salmon survival through my concern from the Southern resident Orcas. Many people don't realize that our resident Orcas are starving to death because the salmon populations have declined. Salmon are a keystone species in the area, meaning that their health directly impacts the health of every other species in the life cycle. The DNA of salmon can be found miles away from the oceans and rivers, inside the trees as far as the rocky mountains! This is because the salmon are an important food source for so many species, who then carry the trace of their bodies throughout the forest.
JD: What qualities about creating works with chalk resonate with you in general, and for this project in particular? Why do you feel that chalk art murals are uniquely well-suited to convey a conservation message?
GA: Chalk art is an ephemeral, delicate, and vanishing medium. This echoes the threat that we are facing with the salmon, and their possible disappearance. Let's not allow the salmon to disappear, as my drawings do!
JD: How do you engage with audiences as you are creating? What are some connections you have made with people while creating conservation-focused works?
GA: Sometimes I am able to involve community and youth in the process when I'm creating. Recently, I completed a mural called "Grateful steward" in Lynnwood, WA, which depicts two hands holding over 25 different species of indigenous edible and medicinal plants. I partnered with schools in the area to help design and brainstorm ideas for the mural. This was such a fun way to create something beautiful for a community while also teaching young people to care about their environment.
JD: What actions do you hope people will take after viewing and interacting with this project?
GA: First, I would love it if this project helped to educate people about the issues facing wild salmon, and the importance of restoring their numbers. Awareness is the first step, and I think many people have no idea about the threat that these animals are facing. Secondly, I hope it inspires people to reach out to their representatives and demand action on removing the Snake River dam.
Inspired by this interview and want to do more in support of creative activism?
NWAAE invites you to download, print and send this postcard, featuring the chalk mural art design Gabrielle Abbott is installing in downtown Seattle.
Download, print, and send this postcard to
Senators Murray and Cantwell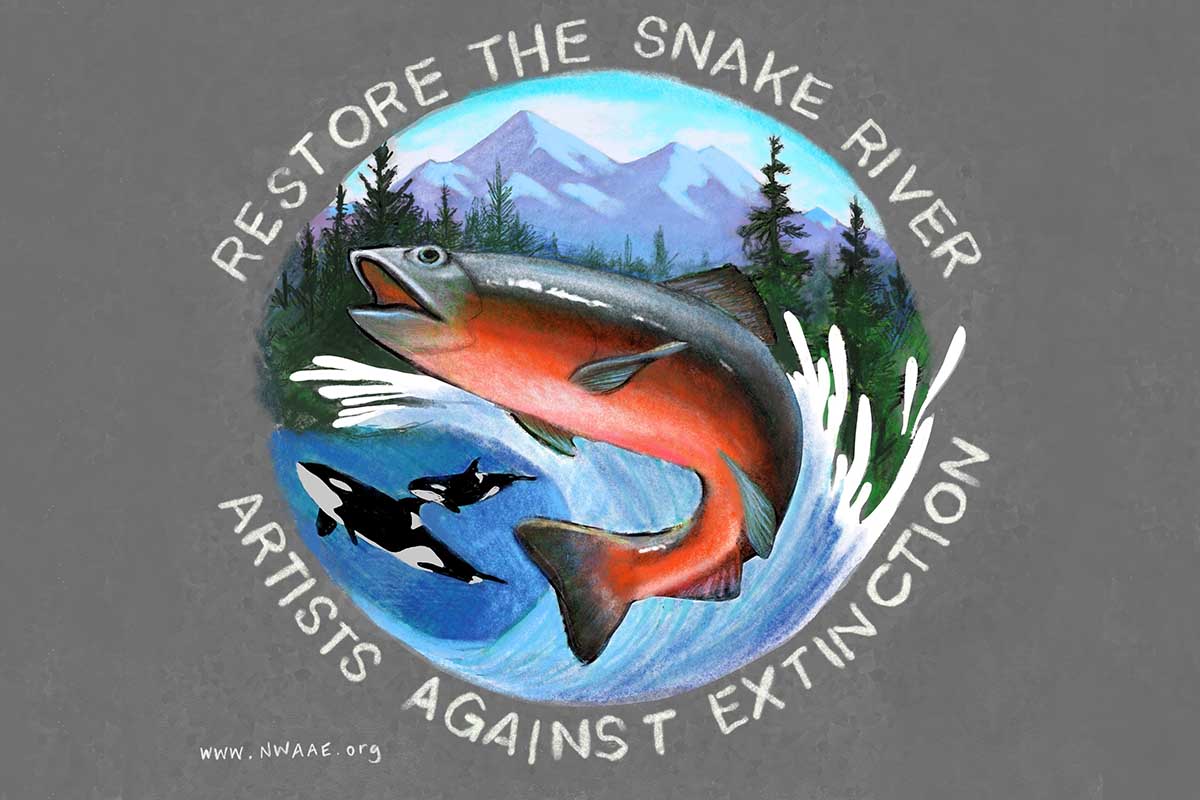 Gabrielle Abbott, Restore the Snake River
chalk art mock-up on paper
The postcards are pre-addressed to Washington Senators Patty Murray and Maria Cantwell. Add your own message and send them off to let our decision makers know you support salmon recovery and Lower Snake River dam removal.