On Saturday September 9th, Save Our wild Salmon (SOS) team members Abby Dalke, Britt Freda, and McKenna Shultz hosted a booth at the 2nd annual Community Salmon Celebration at Bush Pasture Park in Salem, Oregon. This event was organized by the Mid-Willamette Outreach Group as a fun and interactive way to engage in dialogue with community members about Pacific salmon and their freshwater habitats. The Salmon Celebration had nine stations set up along a creekside path that were hosted by various environmental and salmon organizations in the area. Each station featured a salmon-related activity with an educational purpose whether that be life-cycle analyses, habitat exploration, or an introduction to salmon advocacy efforts. Participants of all ages meandered from station to station at their leisure and engaged with hosts through a variety of activities.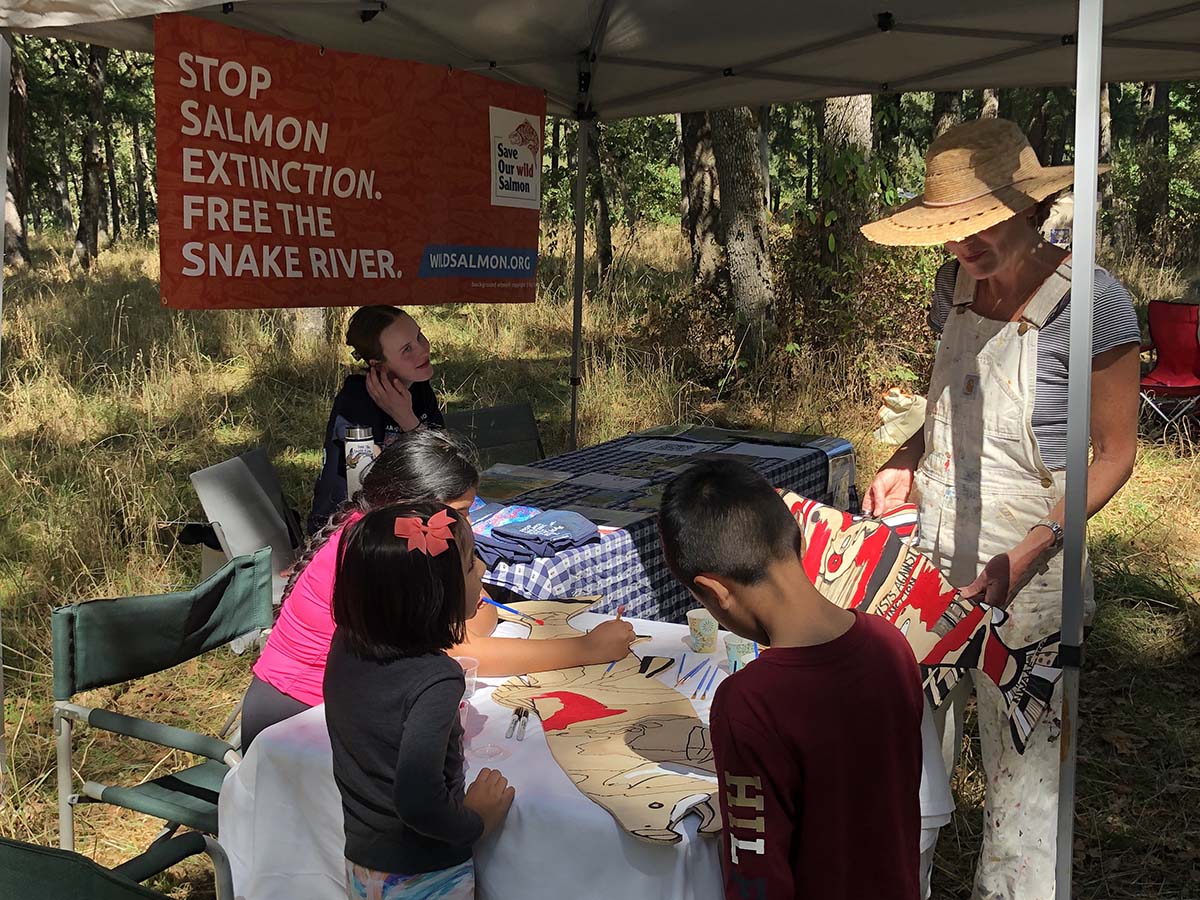 SOS used the Community Salmon Celebration as an opportunity to launch a new community art project in collaboration with Northwest Artists Against Extinction (NWAAE). Britt Freda, artist and Creative Director for NWAAE constructed multiple wooden, life-size salmon cutouts that were brought to the Salmon Celebration. At the event, attendees of all ages were encouraged to pick up a paint brush and contribute to this collective piece of art by painting or pattern drawing on a section of the fish.
The salmon forms are cut out of wood. "The growth ring lines in the wood often look, to me, like rivers or wandering streams," stated Britt Freda. "Salmon, rivers and forests have an interdependent relationship between them. In a healthy and abundant ecosystem they nourish each other (and us!). I have traced the tree's grains and growth lines–or lifelines as I like to think of them–to inform the basic patterns in the wood salmon," said Britt. Participants were offered black, red, and white paint, black ink and shimmery graphite. Some painted large sections, some played with mixing colors, some took time to add intricate details to already painted sections, and some passed up the paintbrush alltogether and used their unique fingerprints–their own unique lifeline patterns–to make their mark.
Together, these salmon cutouts are part of a larger vision that extends far beyond the scope of this single event. "The concept is to create a collaborative work of public art, with the markings of a diverse population of hands and voices," described Britt. "Our vision for this installation piece is to visually represent different perspectives, ages, skill sets, experience, and ideas in a large traveling, awareness raising "school" of salmon. These many art forms are intended to remind viewers that people from different Tribes and ethnicities, different ages and educations, and different orientations, occupations and geographic locations…care about healthy salmon, orcas and all that lives connected to the lifelines of the rivers. Plus, diversity is beautiful–from human beings, to endangered species, to ecosystems," concluded Britt. "May we continue to look to the natural world as our wise guide and resilient teacher as we design our future."
This afternoon in the park was one of both communal celebration and critical opportunity: celebration of the work that has already been done to protect and restore salmon to their historic habitats, and opportunity to amplify the work of Indigenous leaders that continues today. The Salmon Lifelines project sits at the intersection of art, advocacy, and science, and SOS is excited for the many ways we can expand this work in the months to come.